Aizkraukle Mire Historical Names 17/11/2011 12:25
During the preparation of Nature Management Plan for Aizkraukle Mire biologist Uvis Suško gathered historical names for mineral islands and other geographical places in mire.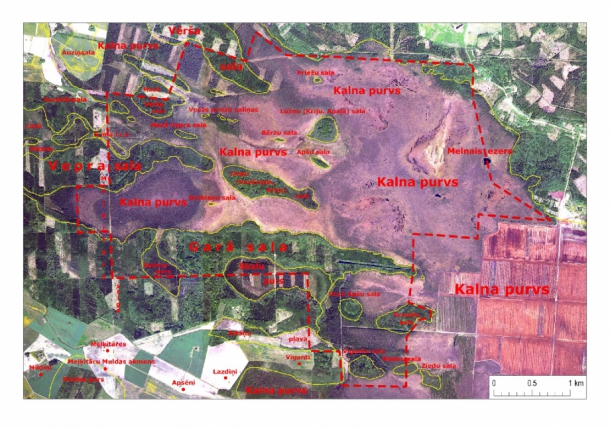 DEVELOPMENT OF THE MIRE AND HISTORY OF THE AREA
Development of the Aizkraukle Mire started in the early Boreal Period of the Holocene, approximately 8000–9000 years ago – it is verified by the results of spore-pollen analysis. Due to the raised groundwater level, small and shallow lakes formed in the lower parts of the wide and shallow lowland. With the climate becoming warmer and more humid that favoured an intensified development of vegetation lakes soon became overgrown and peat formation started from the decayed pieces of plants. The research of the mire revealed that the peat layer reaches 7.9 m in the deepest parts of the mire. The most intensive peat formation started during the Subatlantic Period approximately 2800 years ago and it is continuing also today. The peat has been accumulating during this long period and gradually forming domes in the mire that have become the highest points in the mire and its closest surroundings.
The most ancient written facts about the Aizkraukle Mire and the surrounding forests available in archives can be found in Swedish maps of the 17th century. The denominations like "a mire with old aspens and lime-tree forest" and "a deep, flat mire" tell us that the mire has been open and the surroundings and mineral-soil islands of the mire have been overgrown with oldgrowth natural forests. Nevertheless a part of these islands are today no more located within the open mire rather than have become constituents of the mainland forest they still can easily be identified in nature by their raised relief. These wooded islands can be seen on maps of the previous centuries and they have got impressive historical names – the Vērša [Ox] Island, the Liepu [Lime-tree] or Kriju [Lime-bark] Island, the Brūkleņu [Bilberry] Island. These are just some of the toponyms that, hopefully, will not disappear from the neighbourhood.
The territory to the south of the Aizkraukle Mire around the former Meļķītāres Farmstead was rather well-populated before the World War II while later many of them including the Meļķītāres Farmstead itself were destroyed because of the Soviet collectivization policy. Nevertheless, the name of the historical farmstead known at least from the 2nd half of the 17th century has survived in names of the famous Meļķītāru Trough-shaped Hollow Stone and the Meļķītāru Gridline.
Text: Valda Baroniņa.